New Strategic Partnership with Analyser Servicing


IES Lean Systems are pleased to announce a strategic partnership with Analyser Servicing who are also based in Cork. Anaylser Servicing supply many spare parts for new, old and obsolete Analysers and offer a full Analyser service. Analyser Servicing have a large stock of spare parts for many types of Analysers. They are currently offering for sale a large quantity of service parts on their eBay shop. Details can be found on their website here:
www.AnalyserServicing.com
__________________________________________________________________________
Need Remote Support?


IES Lean Systems use TeamViewer for remote controlling any computer or Mac over the internet within seconds or using TeamViewer for online meetings.
IES Quick Support

IES Quick Support
1) Download and run the IES Quick Support application.
2) Then call your IES Support Contact with the ID and Password that is automatically generated.
Use this coupon (
26509-68-061691
) for 3% saving when ordering any TeamViewer product.
__________________________________________________________________________
IES Lean Systems use eApps Cloud Servers


Sign up and save up to 50% just click the logo!

IES Lean Systems use eApps cloud servers for hosting Microsoft SQL 2008 databases and custom cloud based applications.
The databases and applications are hosted on virtual machines running on the eApps cloud. A backup plan is implemented to ensure 99.99% availability.
_________________________________________________________________________
InfinityQS Proficient 5 & Manufacturing Intelligence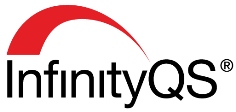 Manufacturing Intelligence Delivers 100% Visibility to Improve Quality Across Operations

Manufacturing Intelligence

Manufacturing Intelligence (MI) is used to bring real-time manufacturing product and process data from multiple sources into a single repository—or quality hub—for reporting, analysis, visual summaries, and data synchronization between enterprise level and plant floor systems.

MI enables quality professionals to leverage product or process data—datasets which are typically too large to easily manage effectively—from batch, discrete and continuous environments to drive strategic decision making and ultimately control the quality, consistency and cost of produced goods.


With Manufacturing Intelligence, manufacturers will:

Improve Quality: With a single view of the quality data generated through the centralized hub, users can prioritize efforts to continuously enhance the quality of their product, processes and overall operations. This not only prevents recalls, but also protects a brand's reputation.

Maintain Traceability & Compliance: By streamlining and automating the process for collecting data and integrating disparate plant-floor systems such as MES, ERP and CMMs, manufacturers can easily produce audits and ensure compliance with FDA CFR part 11, FSMA and others.

Optimize Operations: A quality hub will simplify the management of workflow with automated and event-based tasks and reminders to ensure effective application of Six Sigma and lean manufacturing initiatives. This will increase efficiency and productivity across operations.

Decrease Costs: Monitoring and analysis in real time create a complete, up-to-the-second view of the plant floor allowing manufacturers to predict errors before they occur and take corrective actions to prevent quality issues. This reduces waste and avoids costly recalls.

Make Strategic Business Decisions: Funneling quality data into a single, secure and easily accessible repository enables sophisticated reporting to support the needs of users from the plant floor to the executive suite with visual dashboards and real-time access to KPIs.

Manufacturing Intelligence creates a complete view of manufacturing operations with end-to-end visibility that lets you take control of quality at each point of the product lifecycle.
For more information contact sales: sales@iesleansystems.com

Or visit www.infinityqs.com


__________________________________________________________________________
New Ireland Office
We have moved our Ireland operations to a new address:
IES Lean Systems Ltd.
Building 1000,
City Gate,
Mahon,
Cork,
Ireland
Ph: +353 (0)21 240 9040


_______________________________________________________________________________________________
New United Kingdom Office
We have moved our United Kingdom operations to a new address:
IES Lean Systems Ltd.
Icon Business Centre,
Lake View Drive,
Sherwood Park,
Nottinghamshire,
England NG15 0DT
Ph: +44 (0)1623 726246
Fax: +44 (0)1623 729350
_______________________________________________________________________________________________
IES Lean Systems Ltd and InfinityQS Partnership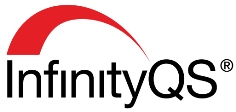 We are proud to announce our partnership with InfinityQS, the world leader in real-time Statistical Process Control (SPC) software.

InfinityQS Strengthens our MES Alliances.

SPC software completely takes the guesswork out of quality control and process control. It is a scientific, industry standard, data-driven methodology for quality analysis and improvement though out the manufacturing process.

Measurements are taken from products as they are produced. The collected data is plotted on graphs with pre-determined control limits. Data falling within the control limits means operation is as expected. Variation within the control limits is usually due to natural variations that are part of the process. Variation outside the control limits indicates an assignable cause is likely as the source of the product variation. Something within the process can then be changed to rectify the issue before any defects occur.

IES Lean Systems Ltd. is the UK Certified Reseller for all your real-time SPC and InfinityQS needs. We offer a full turnkey SPC solution including consultative services, software supply, configuration, training and integration with your manufacturing and management processes.
_______________________________________________________________________________________________
IES Lean Systems Ltd help get Alcon Laboratories Cork (PTO) Package To Order process On-Line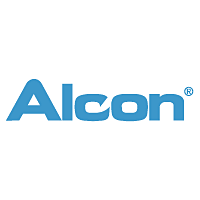 Alcon Laboratories Cork – Package to Order Line Control System
The Key Performance Indicators of the Package to Order Line Control System are::
Global packaging to order system integration
ERP (Enterprise Resource Planning) interface via XML messaging
Primary and Secondary SQL database manipulation, performance and archive data
GE iFix SCADA software development with embedded .Net assemblies
Rockwell Control Logix PLC software
Integration of multiple Ethernet Bar code readers
Integration of Vision systems
Integration of multiple packaging Cells
Integration of a Cartesian tote system
Fully validated system
cGMP guidelines
21CFR Part 11 compliant
Quality Control release reporting
Increased throughout of product
Cell optimization techniques applied
System increased capability to package 1000 products per shift per Cell
17 sec cycle time to package an Intraocular Lens
Full product history (operator, re-work, components requirement)
Components verification at the time of packaging
Eliminate the risk to damage components (tear) by operator
Elimination of the risk of human error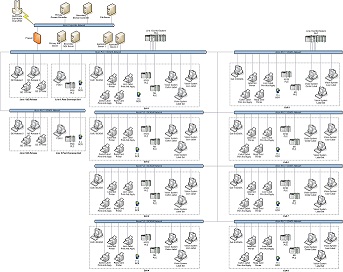 _______________________________________________________________________________________________
IES Lean Systems Ltd. sniffs out improvements in quality at Bulmers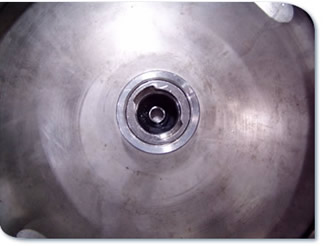 Bulmers Ltd. is part of the C&C Group and is located in Clonmel Co. Tipperary, Ireland. The company markets cider under the Bulmers brand in the Republic of Ireland and under the Magners brand in all other markets.

Leaking kegs present Brewers with significant quality and cost issues and whilst most existing leakage detection systems are effective at identifying leakage of bubbles from the keg spear there are frequent occurrences where the keg is not adequately sealed but it is not bubbling either.

Bulmers Ltd. approached Systems Integrators IES Lean Systems Ltd., to see if they could improve the detection rate and identify a greater proportion of the leaking kegs. IES Lean Systems Ltd.considered the problem and determined that where no liquid was leaking from the spear the integrity of the seal could still be checked by also monitoring for gas leakage and designed a system with dual functionality to detect both types of leakage.

In preliminary trials it was proven that using two methods of leak detection provided much higher sensitivity and greatly improved detection. The system uses a primary Automated Vision Stage and a Secondary Gas Analysis Stage.

The primary stage detects liquid leakage with an IP addressable camera & vision analysis software. The system identifies large-scale visual anomalies and instructs the control system either to deploy the secondary analysis stage or reject the keg. Faulty kegs are marked and removed from the line automatically.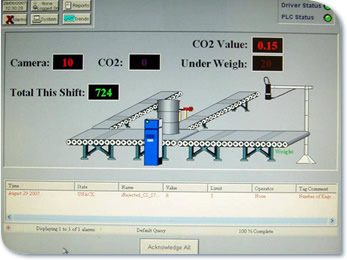 The vision system has the capacity to carry out the programmed functions at a high speed, typically 10 to 50 mSecs without delaying production.

The secondary stage of the system detects gaseous leaks. This stage is only deployed if the keg has not already failed on weight or liquid leakage. It uses an automated CO2 gas analysis system to identify small gaseous leaks and instruct the control system whether to pass or reject the keg.
_______________________________________________________________________________________________
Birr Telescope
IES Lean Systems Ltd. completed the refurbishment of the Birr Telescope. This historical scientific landmark is located in County Offaly, in the heart of Ireland. The Birr Telescope reigned for more than seventy years as the largest telescope in the world. Also known as "The Leviathan of Parsonstown," the giant reflecting telescope was the 19th century vision and creation of William Parsons, the 3rd Lord of Rosse.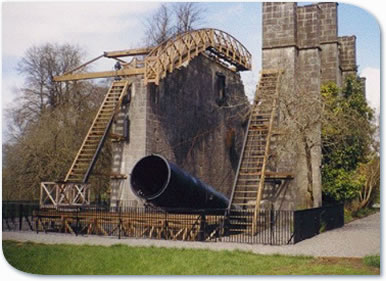 On February 15, 1845, three years after construction began, the Birr Telescope provided the most magnified view of the sky possible at the time. Until the completion in 1917 of the 100 inch Hooker telescope at Mount Wilson in California, the Birr Telescope beckoned to astronomers of the day as the tool to aid their study and exploration of the heavens.
The 72 inch mirror, mounted in a 56 foot long tube, weighed 3 tons. The lower end of the telescope was set on a cast iron universal joint, which sat on a masonry base. Chains controlled by a hand winch, raised and lowered the far end of the telescope. Support for the chains, as well as protection from the wind, was provided by two massive stone walls, one on each side, 50 feet high and 70 feet long.
Using the telescope was a not for the faint of heart, since the observer had be as much as 60 feet in the air on a scaffold like device, which accommodated the movement of the telescope as it tracked an object in the sky.
Technology of the day made it impractical for Lord Rosse to have the parts for his telescope manufactured outside of Ireland, and facilities didn't exist nearby. He not only designed the telescope, but manufactured it. He made the machinery necessary to manufacture the parts. This was truly a telescope of Ireland.
The mirror is the most outstanding feature of the Birr Telescope, and the greatest testament to Lord Rosse's skill as a designer. The technology didn't exist to cast a metal coated glass mirror of that size. Speculum metal, an alloy of copper and tin, was used. The casting was accomplished with three crucibles, each 24 inches in diameter and weighing 1/2 ton. Surrounding bogland supplied the turf which produced the heat needed to melt the metal. The process was a difficult one: the higher the tin content, the more reflective the mirror, yet a higher tin content could cause the mirror to become brittle and break. Lord Rosse built a foundry in the bottom of the Birr Castle moat to cast the mirror. Two mirrors were made so that one would always be available while the other was being polished. The Birr telescope mirror remains the largest metal mirror in the world today.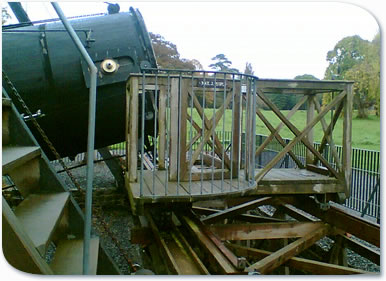 The innovative design which allowed for the construction of a large telescope caused the Birr telescope to have a restricted range. The wall that protected it, also prevented it from swinging around in a circular motion. Its range was limited to a north/south direction along the meridian meaning an hour was the longest time in which the motion of a star or nebula could be tracked.
Many prominent telescope makers of the day ridiculed the Birr Telescope and Lord Rosse. Astronomers, on the other hand, flocked to Birr Castle from all over the world for a chance to see the skies in more detail than anyone else of that time. Lord Rosse would go on to identify many celestial objects. It was Lord Rosse, using the Birr Telescope who first described the spiral nature of nebulae and recognized them as galaxies outside our own, containing stars and thus disproving the prevailing theory that they were merely objects made of dust within our own galaxy.
After Lord Rosse died, his son continued to maintain and use the telescope. However, after his death, the Birr Telescope fell into disuse and disrepair. Parts of it were dismantled. The mirror was taken to the Science Museum in London, where it still resides. Attempts to restore the telescope during the 1960's fell short. In 1994 with the help of private, business, and governmental funding and determination, restoration of the Birr Telescope was begun and finally completed in 1999, with the hope that it would occasionally be used for its original purpose, bringing the heavens into closer view.Unfortunately after the recommissioning it was found that the control system being used was inadequate and unable to provide the precision required for positioning the Telescope. Fast forward to 2006 & enter ies. ies were awarded the brief to design, install and commission a replacement with the key objectives to:
Provide a system capable of automatic operation for demonstration purposes to visitors and manual operation for use by Astronomy observers.
Replace the existing Control System with a modern well supported one.
Relocate the Operator Station PC from its external environment to inside the building.
Provide the necessary safety precautions and interlocks in the control system to ensure safe operation.
The system also provides the Alarms and Interlocks to prevent inappropriate operation.

This is provided by :
50 Proximity switches, 3 external E-stop buttons and 4 anti collision sensors

In addition to the controller, the scope of the ies contract for the upgrade encompassed:
Software design, coding and testing for functionality.
Replacement of DC drives. & clutches
Replacement of proximity / limit switches
Replacement of E-stop buttons
Replacement of Anti-collision sensors
Recalibration of Inclinometer
Recalibration of Pull wire sensor

The system has 4 password protected levels of access, namely:
View Only
Operator
Maintenance
Administrator

The system was redesigned to provide three modes of operation:
Manual
Demonstration
Observer
In the Observer Mode the telescope can be positioned by pressing the appropriate button (up/down/east/west) until the desired viewing position is achieved.
Alternatively the observer has the facility to enter in a desired angle of elevation and azimuth angle. These set points are entered via the touch screen..
Once the set points are entered the user presses the "Start" pushbutton on the console, which positions the telescope appropriately.
Starting from zero the motors ramp up to their max speed and then ramp down when the button is released, providing a smooth stop.
Once the position has been reached the motor positioning control is deactivated to allow the operator to carry out small adjustments using the handles.

For more information on the fascinating Birr telescope which is now operational with our help, please follow the link below. Please do give Birr Castle a visit if you are in Ireland, it's a great family day out.

Birr Castle Demesne
_______________________________________________________________________________________________